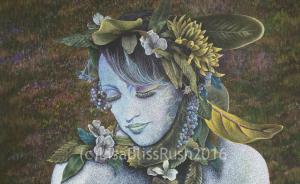 Rush wins 'Best of Show'

Colors of Flight Colors of Flight Carroll County artist Lisa Bliss Rush has earned top honors at the 91st Annual Kokomo Art Association (KAA) Spring Art Show. Rush received Best of Show honors for her colored pencil drawing, "Woodland Nymph." She also received second place in the Professional Class 2 category for her colored pencil drawing, "Colors of Flight."

The Show continues at the KAA Art Center, located at 525 Ricketts St., Kokomo, through May 26. The show is open Tuesday through Saturday from 1-4 p.m. Admission is free. The show ends with a reception, open to the public, on May 26 at 7 p.m. There are 71 entries in the Show.

Last summer Rush won Best of Show honors at the Logansport Art Association Fine Art Show with her "Woodland Nymph" colored pencil drawing.

View more art-works by Rush on her website, www.lisablissrush.com. You can also follow her blog at www.lisablissrush. wordpress.com and follow...